The Gift
Dublin Core
Description
A Painting that show an Pueblo man but dressed and represented with many common items that would be seen in a painting of a Pueblo woman.
Creator
Ernest L. Blumenschein
Source
Smithsonian American Art Museum
Rights
The use of this image may be subject to the copyright law of the United States (Title 17, United States Code) or to site license or other rights management terms and conditions. The person using the image is liable for any infringement.
Still Image Item Type Metadata
Physical Dimensions
40 3/8 x 40 1/4 in. (102.7 x 102.1 cm.)
Files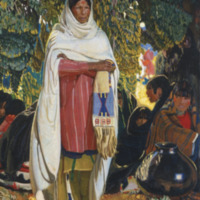 Collection
Citation
Ernest L. Blumenschein, "The Gift,"
Nabb Research Center Online Exhibits
, accessed December 11, 2023,
https://libapps.salisbury.edu/nabb-online/items/show/651
.