50th Anniversary Duck Stamp Print
Dublin Core
Title
50th Anniversary Duck Stamp Print
Subject
Political History
Description
50th Anniversary Duck Stamp Print
Creator
William C. Morris
Source
Ward Museum of Wildfowl Art
Rights
The use of this image may be subject to the copyright law of the United States (Title 17, United States Code) or to site license or other rights management terms and conditions. The person using the image is liable for any infringement.
Files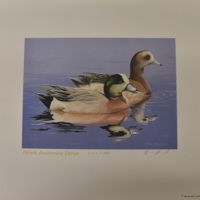 Collection
Citation
William C. Morris, "50th Anniversary Duck Stamp Print,"
Nabb Research Center Online Exhibits
, accessed July 4, 2022,
https://libapps.salisbury.edu/nabb-online/items/show/870
.